Supporting
Conflict Study
Research Associate
Jeannie Annan
Senior Research Associate
The Pearson Institute for the Study and Resolution of Global Conflicts
Jeannie Annan's work aims to improve humanitarian policy and programs through rigorous research. Specifically, she focuses on the long-term effects of war and sexual violence, the causes and consequences of gender-based violence, and the effectiveness and impacts of humanitarian aid and programs developed to prevent and respond to violence.
Annan is also affiliated with the International Rescue Committee, where she contributes as a senior director for research and evaluation. Previously, she was a visiting scientist in the Department of Global Health and Population of the Harvard School of Public Health and a visiting scholar in the Human Rights Center at the University of California, Berkeley. She has also worked with humanitarian organizations in Southern Sudan, Northern Uganda, and Kosovo. She received her PhD in counseling psychology at Indiana University at Bloomington and completed postdoctoral fellowships at New York University and Yale University.
Senior Advisor
Brett Goldstein
Senior Advisor
The Pearson Institute for the Study and Resolution of Global Conflicts
Brett Goldstein is a Senior Advisor to The Pearson Institute and Special Advisor to the Provost at the University of Chicago. In this role, he advises governments and major universities around the world on how to use data to better understand urban ecosystems. Goldstein focuses his work with the Institute on analyzing emerging threats to the global community, namely cyber security policy.
Previously, Goldstein worked for the City of Chicago as the first municipal chief information officer. In this capacity he worked to accelerate the city's growth as a global hub of innovation and technology, establishing one of the nation's leading open data efforts and overhauling the city's technology infrastructure to reflect the needs of today's government. Goldstein also created WindyGrid, a situational awareness and analytics platform first used during the 2012 Chicago NATO Summit and later adopted to support improved service delivery citywide. Goldstein began his career in the start-up sector, where he spent seven years at OpenTable.
Current research affiliates are exploring the causes and consequences of gender-based violence, the characteristics of state-led repression, paramilitary groups in Colombia, and the political economy of international migration.
Postdoctoral Scholar
Kara Ross Camarena
Postdoctoral Scholar
Harris Public Policy
Kara Ross Camarena, AB'03, MPP'11, is interested in the political economy of migration and violence. Her research examines the political and economic drivers and consequences of migration and migration policy. Her dissertation research focused on international aid policy for refugees and asylum seekers in sub-Saharan Africa. Current research projects examine violence, information, and refugee flight in Burundi and how legacies of violence and economic opportunity impact the return of displaced Christians in Lebanon.
Camarena is a Postdoctoral Scholar at Harris Public Policy. She received her PhD in political science from Harvard University. A Harris alumna, Camarena received both her master of public policy degree and bachelor's degree from the University of Chicago. Prior to pursuing graduate studies, she worked in the nonprofit sector in the United States and as a Peace Corps Volunteer in Tanzania.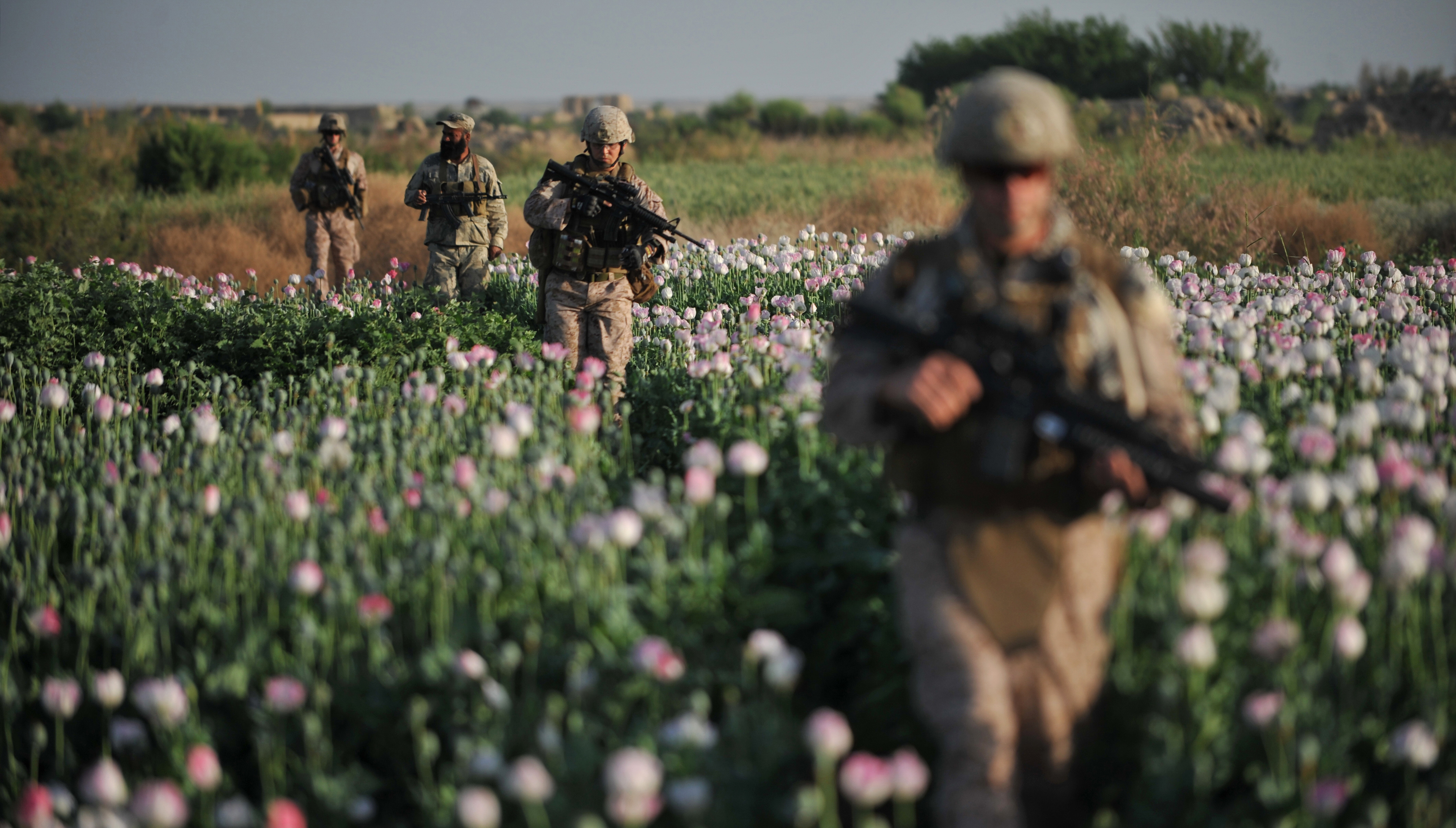 US Marines and Navy Gunnery Sergeant Nate Crosby.
HELMAND PROVINCE, AFGHANISTAN - APRIL 25, 2017: US Marines and Navy Gunnery Sergeant Nate Cosby (R), Staff Sergeant Josh Lacey (2nd R) and Hospitalman 2 Daniel Holmberg (L) from Border Adviser Team and Explosive Ordnance Disposal 1st and 2nd Marine Division walk through an opium poppy field in the village of Maranjan in Helmand Province as they take patrol with their team and Afghanistan National Police. Nearly a decade into the war in Afghanistan, opium poppies are still the major crop for many farmers and a big source of income for the Taliban despite expensive efforts to stamp out cultivation.
GETTY IMAGES / Bay Ismoyo