Collaborating
Across Disciplines
Go Back
Brett Goldstein
Senior Advisor
The Pearson Institute for the Study and Resolution of Global Conflicts
Brett Goldstein is a Senior Advisor to The Pearson Institute and Special Advisor to the Provost at the University of Chicago. In this role, he advises governments and major universities around the world on how to use data to better understand urban ecosystems. Goldstein focuses his work with the Institute on analyzing emerging threats to the global community, namely cyber security policy.
Previously, Goldstein worked for the City of Chicago as the first municipal chief information officer. In this capacity he worked to accelerate the city's growth as a global hub of innovation and technology, establishing one of the nation's leading open data efforts and overhauling the city's technology infrastructure to reflect the needs of today's government. Goldstein also created WindyGrid, a situational awareness and analytics platform first used during the 2012 Chicago NATO Summit and later adopted to support improved service delivery citywide. Goldstein began his career in the start-up sector, where he spent seven years at OpenTable.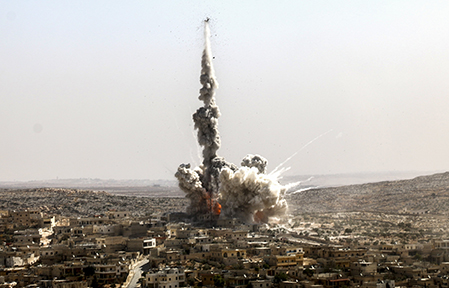 Aleppo, Syria - October 4th
Smoke rises after a warcraft belonging to the Russian Army bombed a residential area in the Darat Izza neighborhood of Aleppo, Syria on October 4, 2016.
GETTY / Mahmud Faysal / Anadolu Agency