Collaborating
Across Disciplines
Go Back
Lauren Manning
Lauren Manning is deeply motivated by the power of a story to change how people think and act. She has previously worked in behavior change communications, focused on gender equality and equitable education in the developing world, and positive youth development and global citizenship in the United States. Prior to this, she pursued a double major at Northwestern University—in journalism with a concentration in multimedia and international reporting and sociology—and a civic engagement certificate with a focus on community development and education. During this experience, she focused on a range of projects from service learning and leadership-focused curriculum development for high schoolers, grassroots economic justice campaigns, and documentary film production. She also spent a quarter as an editorial intern in Cape Town, South Africa, for a local newspaper.

Manning's first exposure to the refugee crises and forced migration were during two reporting trips as an undergraduate student—one to Malawi and one to Jordan. These experiences were particularly influential in defining her career path, as she sought to understand the impact of trauma and the importance of responsible storytelling and collective action. Following this, she spent a year in northern Uganda as a Princeton in Africa Fellow, part of a fellowship program dedicated to investing in young leaders committed to the development and advancement of Africa. In Uganda, Manning focused on digital and strategic communications, capacity building, and coordination for education, livelihoods, and reintegration programming in postconflict communities.At The Pearson Institute, Manning hopes
While at The Pearson Institute and Harris Public Policy, Manning has continued her work with Girl Rising, project managing a youth development pilot program in Thailand and Pakistan. She has volunteered with a local violence prevention organization, serves as a mentor with the Fried Public Policy and Service Mentorship Program, and is a Senior Editor for International Affairs for Chicago Policy Review.
Manning will spend summer 2019 as a short-term consultant with the World Bank's Mind, Behavior, and Development unit. Her work will focus on global applications of behavioral science and thematic areas such as reducing gender-based violence, improving women's access to employment, and reducing malnutrition.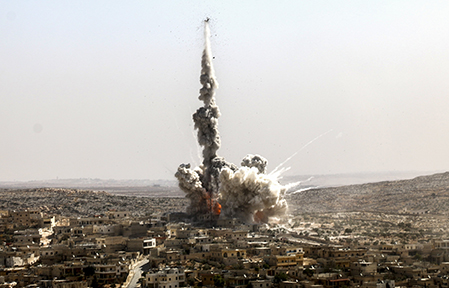 Aleppo, Syria - October 4th
Smoke rises after a warcraft belonging to the Russian Army bombed a residential area in the Darat Izza neighborhood of Aleppo, Syria on October 4, 2016.
GETTY / Mahmud Faysal / Anadolu Agency