Go Back
Nussaibah Younis
Senior Adviser
European Institute of Peace
Dr. Nussaibah Younis is an expert on Iraqi politics, society and foreign policy. She is currently Senior Adviser to the European Institute of Peace, where she designs and implements high level mediation processes with a view to furthering stability in Iraq. She is also the Founder and Director of the Iraq Leadership Fellows Program at the American University of Iraq, which trains political and civil society activists in campaigning skills. Dr. Younis was previously Director of the Task Force on the Future of Iraq at the Atlantic Council, which brought together experts and practitioners working on Iraq from all over the world in in order to design a long-term US-Iraq strategy. Dr. Younis has PhD in International Relations, and completed a Post-Doctoral Fellowship at the Harvard Kennedy School's Belfer Center.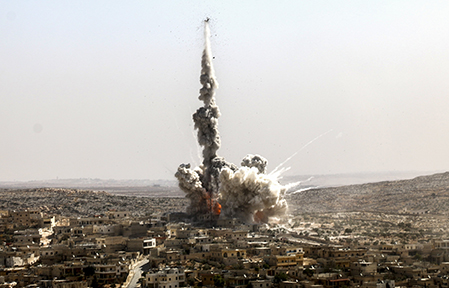 Aleppo, Syria - October 4th
Smoke rises after a warcraft belonging to the Russian Army bombed a residential area in the Darat Izza neighborhood of Aleppo, Syria on October 4, 2016.
GETTY / Mahmud Faysal / Anadolu Agency