Collaborating
Across Disciplines
Go Back
Sarah Boyle
Sarah Boyle is concerned about how conflict affects economies and ways of life. During college she held an internship position at the United States Department of Homeland Security. Her research on current economic and social conditions in more than 10 countries gave caseworkers the local knowledge required to resolve immigration cases. Boyle also worked at the Chicago Council on Global Affairs, where she supported global leaders visiting Chicago. Boyle has traveled far beyond her native Chicago to cultivate a perspective on global conflict. She earned her undergraduate degree in geography and international relations from the University of St. Andrews in Scotland. For her senior thesis, she researched how suburbanites perceive crime and safety in nearby urban areas. After graduating from St. Andrews, Boyle developed the school's North American alumni networks and international efforts. At Harris Public Policy, Boyle served as President of Harris Student Government. During her time a Pearson Fellow, Boyle focused on studying conflict spatially and using quantitative skills to find data-driven solutions.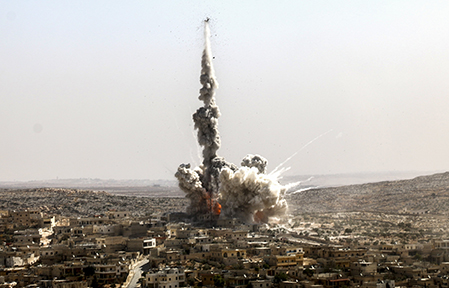 Aleppo, Syria - October 4th
Smoke rises after a warcraft belonging to the Russian Army bombed a residential area in the Darat Izza neighborhood of Aleppo, Syria on October 4, 2016.
GETTY / Mahmud Faysal / Anadolu Agency