Collaborating
Across Disciplines
Go Back
Søren Henn
Postdoctoral Scholar
Harris Public Policy
Soeren's research lies at the intersection of comparative politics and political economy. He studies the politics of development with a focus on fragile state settings, informal institutions, and conflict in Sub-Saharan Africa, particularly the Great Lakes region, and Latin America. Using a range of methods, from field and natural experiments to qualitative interviews, his research aims to address the overarching question of what characterizes governance in fragile states and how it might be improved.
Soeren is a Postdoctoral Scholar at Harris Public Policy. He received his PhD in Political Economy & Government from Harvard University. He holds a BA in Political Science from the University of Essex (UK).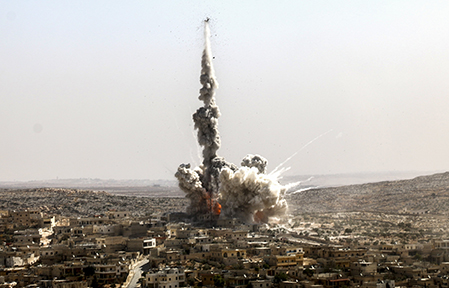 Aleppo, Syria - October 4th
Smoke rises after a warcraft belonging to the Russian Army bombed a residential area in the Darat Izza neighborhood of Aleppo, Syria on October 4, 2016.
GETTY / Mahmud Faysal / Anadolu Agency