Media Inquiries
The Pearson Institute engages in a range of initiatives that further insights into violent global conflict and help inform related public policy. We welcome inquiries from credentialed media about our ongoing worldwide research and the active program of presentations, papers, and other ideas and events generated by this expanding body of work.
A comprehensive information kit available to the media includes backgrounders, FAQs, capsule descriptions highlighting current research, biographies and photographs, interviews with The Pearson Institute's founders and faculty, and testimonials from third-party authorities. 
For more information and to obtain the media information kit, please contact The Pearson Institute:
773.834.3652  or  thepearsoninstitute@uchicago.edu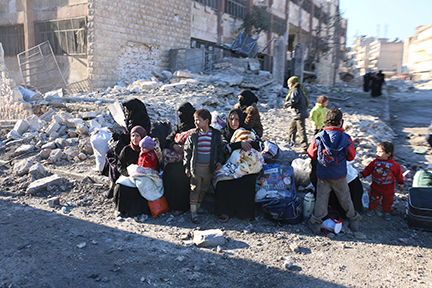 Evacuation of Civilians in Aleppo.
ALEPPO, SYRIA - DECEMBER 15, 2016: A convoy, including buses and ambulances, wait at a crossing point in the Amiriyah District of Aleppo, Syria. The convey is to evacuate civilians trying to flee from East Aleppo, which had been under siege by Iran-led Shiite militias and Assad Regime forces.
GETTY IMAGES / ANADOLU AGENCY / Jawad al Rifai