Affiliate Research
Jeannie Annan
Education in Emergencies: Evidence for Action 2020
How can children in crisis-affected settings gain the reading, math, and social-emotional skills they need to thrive and succeed in school and life?
Ethan Bueno de Mesquita
Deterrence with Imperfect Attribution
Please review the article in full at the link below.
Leonardo Bursztyn, Lucas C. Coffman
The Schooling Decision: Family Preferences, Intergenerational Conflict, and Moral Hazard in the Brazilian Favelas
Can parental incentives impact school attendance?
Kara Ross Camarena, Sarah Claudy, Austin L. Wright
Human Smuggling under Risk: Evidence from the Mediterranean
Authors (in alphabetical order): Kara Ross Camarena, Sarah Claudy, Austin L. Wright
Maliha Chishti
Transnational Feminism and the Women's Rights Agenda in Afghanistan
Thiemo Fetzer, Stephan Kyburz
Cohesive Institutions and Political Violence
Can institutionalized transfers of resource rents be a source of civil conflict? Are cohesive institutions better in managing distributive conflicts? We study these questions exploiting exogenous variation in revenue disbursements to local governments together with new data on local democratic institutions in Nigeria. We make three contributions. First, we document the existence of a strong link between rents and conflict far away from the location of the actual resource.
Tom Ginsburg
Chaining the Dog of War: Comparative Data
How can constitutional design reduce conflict?
Benjamin Lessing
Legitimacy in Criminal Governance: Managing a Drug Empire from Behind Bars
States, rebels, and mafias all provide governance beyond their core membership; increasingly, so do prison gangs. US gangs leverage control over prison life to govern street-level drug markets. Brazil's Primeiro Comando da Capital (PCC) gang goes further, orchestrating paralyzing attacks on urban targets, while imposing a social order throughout slums that sharply reduces homicides. We analyze hundreds of seized PCC documents detailing its drug business and internal disciplinary system.
Luis Martinez
Transnational Insurgents: Evidence from Colombia's FARC at the Border with Chávez's Venezuela
Does access to foreign territory increase conflict?
Alicia S. Menendez, A. Ramesh, P. Baxter, and L. North
Living in Peace: Accelerated Education in Mali
Are Accelerated Education Programs good policy?
Paul Poast
Central Banks at War
Can central banks aid war efforts?
Konstantin Sonin
Rebel Capacity, Intelligence Gathering, and the Timing of Combat Operations
Authors: Konstantin Sonin, Jarnickae Wilson, and Austin L. Wright
Paul Staniland
Militias, Ideology, and the State
What factors shape relations between governments and militias?
Gil Stein, M. Fisher
"Aks" of War: A Digital Museum Inventory for a War-Torn Afghanistan
How can war-torn countries protect and preserve cultural treasures?
Austin L. Wright
Televising Justice During War
Authors: Stephen Stapleton, Andres Uribe, Austin L. Wright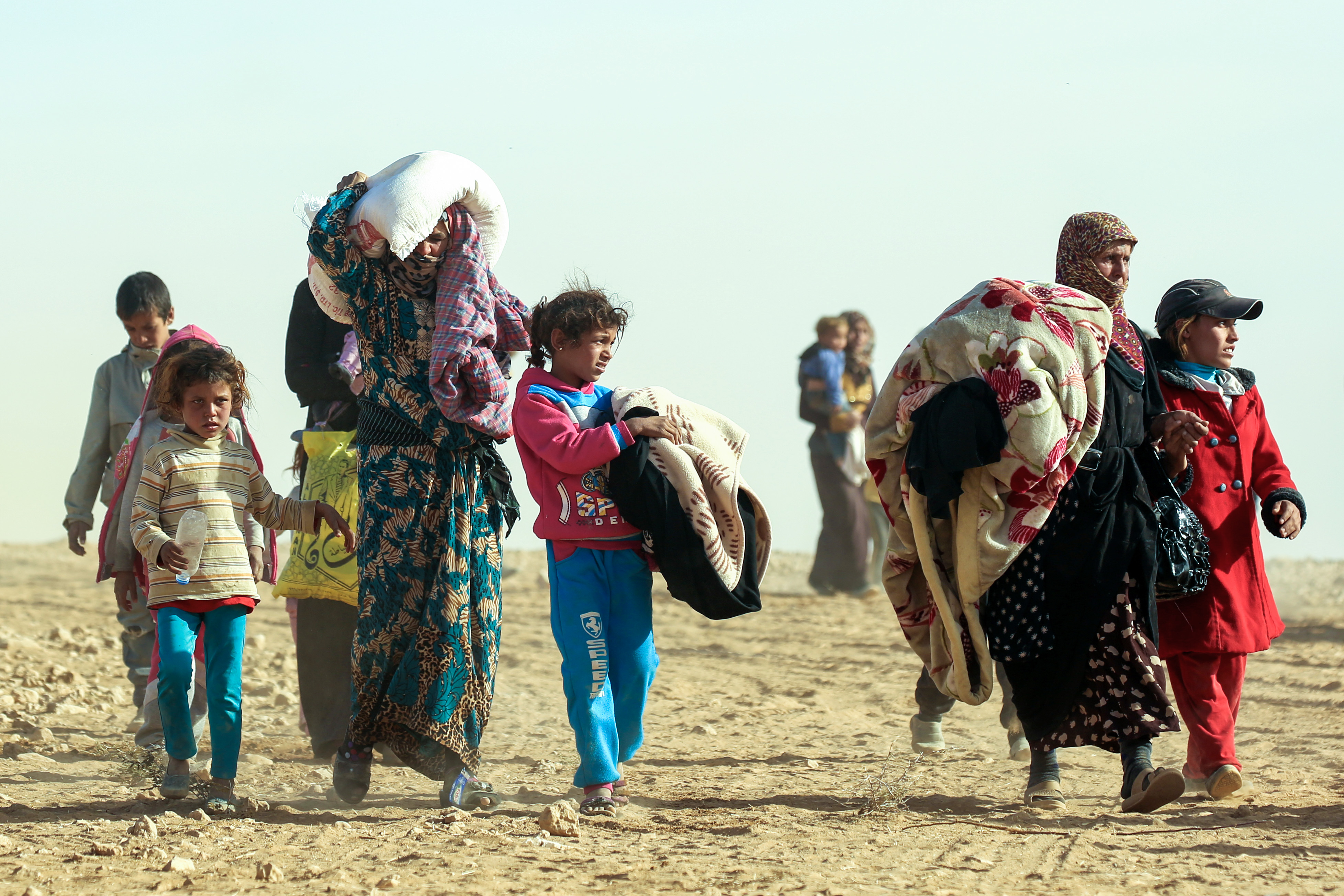 Syria Conflict Refugees.
SYRIA - NOVEMBER 09, 2016: Syrian women and children travel from areas controlled by jihadists of the Islamic State (IS) group, en route to safety in areas held by the Kurdish-Arab Syrian Democratic Forces alliance, near the village of Mazraat Khaled, some 40 kilometers away from the Islamic State de-facto capital of Raqa.
GETTY IMAGES / Delil Souleiman