Understanding Global Conflict
The Pearson Institute is galvanizing scholars and researchers across disciplines to study the origins, dynamics, and implications of global conflict. They are meeting increased demand for evidence-based insights that can help shape public policy. The following articles represent a diverse sample of current and recent research conducted by faculty and faculty affiliates of The Pearson Institute.
Author

Sort ascending

Title
Year
Region
Wright, Austin L.
Economic Shocks and Rebel Tactics
2016
South America
Wright, Austin L.
Wildfires and Human Conflict
Wright, Austin L.
Terrorism, Ideology and Target Selection
2013
Northern Europe, Western Europe
Wright, Austin L.
Border Walls and the Economics of Crime
2017
Middle East
Wright, Austin L.
Civilian Abuse and Wartime Informing
2017
Middle East
Wright, Austin L.
Televising Justice During War
2018
Middle East
Stein, Gil
"Aks" of War: A Digital Museum Inventory for a War-Torn Afghanistan
2014
Southern Asia
Stein, Gil
The War Ravaged Archaeological Heritage of Afghanistan
2015
Southern Asia
Stein, Gil
Economic Dominance, Conquest, or Interaction among Equals? Theoretical Models for Understanding Culture Contact in Early Near Eastern Complex Societies
2014
Western Asia
Staniland, Paul
Indirect Rule and Varieties of Governance
2016
Southern Asia
Staniland, Paul
Militias, Ideology, and the State
2015
Southern Asia
Staniland, Paul
Kashmir since 2003: Counterinsurgency and the Paradox of "Normalcy"
2013
Southern Asia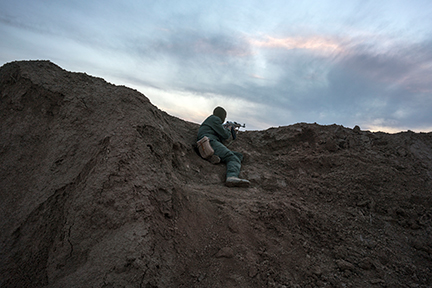 On the front line.
MAKHMOUR, IRAQ - NOVEMBER 19, 2015: Sunni fighters opposing the Islamic State take positions at the front line near the IS-controlled village of Haj Ali in the southern Mosul countryside.
MAGNUM PHOTOS/ Moises Saman