Understanding Global Conflict
The Pearson Institute is galvanizing scholars and researchers across disciplines to study the origins, dynamics, and implications of global conflict. They are meeting increased demand for evidence-based insights that can help shape public policy. The following articles represent a diverse sample of current and recent research conducted by faculty and faculty affiliates of The Pearson Institute.
Author
Title
Year

Sort descending

Region
Wright, Austin L.
Wildfires and Human Conflict
Robinson, James
Social Structure and Conflict
Africa
Annan, Jeannie
Education in Emergencies: Evidence for Action 2020
Global
Bueno de Mesquita, Ethan
Regime Change and Revolutionary Entrepreneurs
2010
Global
Ginsburg, Tom
An Economic Interpretation of the Pashtunwali
2011
Southern Asia
Staniland, Paul
States, Insurgents, and Wartime Political Orders
2012
Southern Asia
Lessing, Benjamin
When Business Gets Bloody: State Policy and Drug Violence
2012
Bursztyn, Leonardo
The Schooling Decision: Family Preferences, Intergenerational Conflict, and Moral Hazard in the Brazilian Favelas
2012
South America
Ginsburg, Tom
When to Overthrow your Government: The Right to Resist in the World's Constitution
2013
Global
Ginsburg, Tom
Libertarian Paternalism, Path Dependence, and Temporary Law
2013
Global
Wright, Austin L.
Terrorism, Ideology and Target Selection
2013
Northern Europe, Western Europe
Bueno de Mesquita, Ethan
Rebel Tactics
2013
Global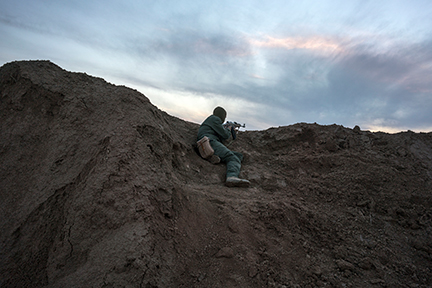 On the front line.
MAKHMOUR, IRAQ - NOVEMBER 19, 2015: Sunni fighters opposing the Islamic State take positions at the front line near the IS-controlled village of Haj Ali in the southern Mosul countryside.
MAGNUM PHOTOS/ Moises Saman