Understanding Global Conflict
The Pearson Institute is galvanizing scholars and researchers across disciplines to study the origins, dynamics, and implications of global conflict. They are meeting increased demand for evidence-based insights that can help shape public policy. The following articles represent a diverse sample of current and recent research conducted by faculty and faculty affiliates of The Pearson Institute.
Author

Sort descending

Title
Year
Region
Ginsburg, Tom
What Can Constitutions Do?: The Afghan Case
2014
Southern Asia
Ginsburg, Tom
Constitutional Islamization and Human Rights: The Surprising Origin and Spread of Islamic Supremacy in Constitutions
2014
Southern Asia, Western Asia, Northern Africa
Ginsburg, Tom
An Economic Interpretation of the Pashtunwali
2011
Southern Asia
Lessing, Benjamin
Endogenous State Weakness in Violent Democracies
2015
South America
Lessing, Benjamin
When Business Gets Bloody: State Policy and Drug Violence
2012
Lessing, Benjamin
Counterproductive Punishment: How Prison Gangs Undermine State Authority
2016
Central America, Northern America, South America
Lessing, Benjamin
Logics of Violence in Criminal War
2015
Central America, South America
Lessing, Benjamin
Bribes and Bullets
2016
Central America, South America
Lessing, Benjamin
Legitimacy in Criminal Governance: Managing a Drug Empire from Behind Bars
2019
Martinez, Luis
Transnational Insurgents: Evidence from Colombia's FARC at the Border with Chávez's Venezuela
2016
South America
Menendez, Alicia S.
Living in Peace: Accelerated Education in Mali
2016
Global
Menendez, Alicia S.
Accelerated Education Programs in Crisis and Conflict: Building Evidence and Learning
2016
Global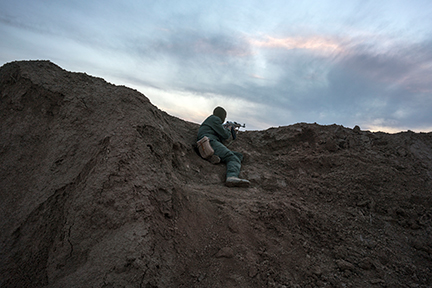 On the front line.
MAKHMOUR, IRAQ - NOVEMBER 19, 2015: Sunni fighters opposing the Islamic State take positions at the front line near the IS-controlled village of Haj Ali in the southern Mosul countryside.
MAGNUM PHOTOS/ Moises Saman