Students at the Harris School of Public Policy
Students at the Harris School of Public Policy attending Math Camp.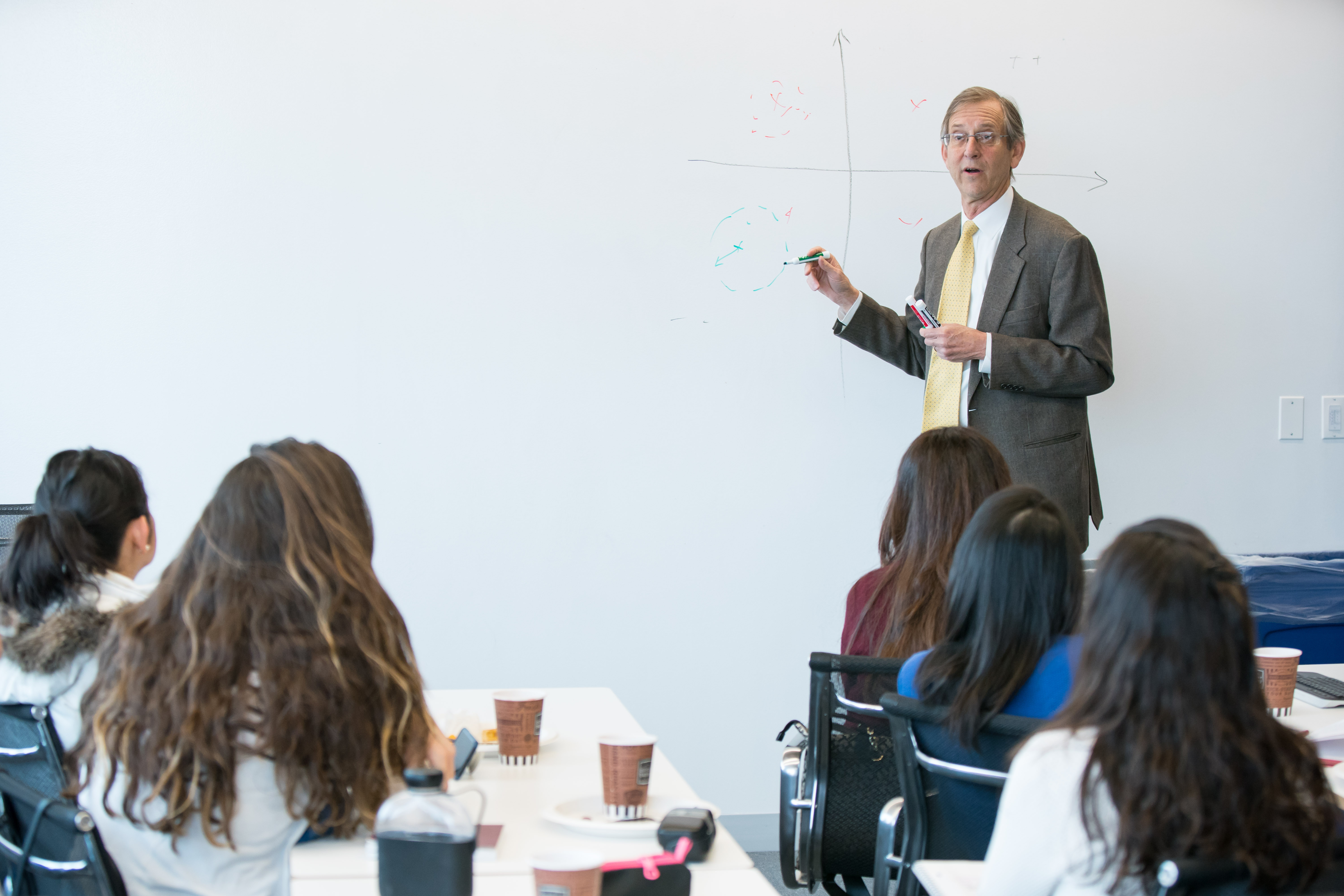 Powerful Credentials
The Pearson Institute intends to be the intellectual destination for students around the world who are motivated to study global conflicts. The Pearson Institute offers an academic curriculum that introduces students at the University of Chicago to the causes and consequences of violent conflict. These courses teach them the rigorous systematic thinking required to explore potential resolutions to global conflicts.
The Pearson Institute supports these students by offering new educational programs that give them the methodological foundations they need to study global conflicts. These programs include formal academic course work, innovative tools for resolving conflicts and informing more effective policies, and an innovative experiential learning curriculum. 
Our location outside the Beltway and away from the coasts brings objectivity to our discussions. We are a convenient destination for scholars who want to engage in a fundamentally different mode of inquiry and interaction.
Degrees
Degrees
Harris Public Policy offers eight different master's degree programs, eight joint-degree programs, one dual degree and a doctoral program designed for an academic or research-oriented career.
The two-year MPP professional degree program
Master of Public Policy
The two-year MPP professional degree program
The two-year MPP is a professional degree program composed of a core curriculum and electives in a variety of areas of focus. It is designed for students who wish to gain a thorough training in public policy skills and issues. The core curriculum draws on a variety of disciplines and fields, including economics, sociology, political science, statistics, econometrics, political economy, organizational theory, and program evaluation. These areas provide a foundation in critical analysis, reflecting Harris Public Policy's belief that mastering quantitative and analytical skills prepares students to be effective public policy practitioners. MPP students are eligible for the Pearson Fellows program.
The research-oriented doctoral program
PhD
The research-oriented doctoral program
The doctoral program at Harris Public Policy prepares qualified students interested in research-oriented careers involving the substantive and institutional aspects of public policy. The program emphasizes the acquisition of skills needed to design and conduct policy-relevant research, and allows students to develop individualized and innovative courses of study in which they work closely with faculty members of Harris and the University. PhD students are eligible for the Pearson Scholars program, which provides financial support to a select group of doctoral students. 
Joint Degrees
Students can earn two University of Chicago graduate degrees in an accelerated time frame. The following six degrees are currently available: