Collaborating
Across Disciplines
Go Back
Carolina Bernal
MPP'17
Growing up in Colombia, Carolina Bernal observed how armed conflict and civil war impacted the judicial system, and she decided to make an impact. After earning an undergraduate degree in law from Universidad EAFIT in Colombia, she conducted academic research at think tank Dejusticia and made policy recommendations for the criminal system. She then joined the Colombian Prosecution Office, working for the attorney general as a public policy advisor. She studied the relationship between strong state systems and the ability to prosecute homicides and drug trafficking.
Following her graduation from Harris Public Policy, Bernal works as a research assistant for Oeindrila Dube, the Philip K. Pearson Professor of Global Conflict Studies through the Abdul Latif Jameel Poverty Lab (J-PAL). Bernal aspires to pursue her own research agenda, working to understand how Colombia's institutions should adapt to conflict and where they should concentrate to bring about much-needed change.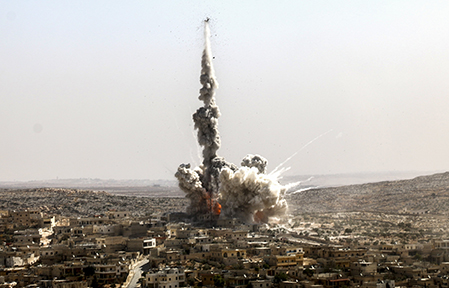 Aleppo, Syria - October 4th
Smoke rises after a warcraft belonging to the Russian Army bombed a residential area in the Darat Izza neighborhood of Aleppo, Syria on October 4, 2016.
GETTY / Mahmud Faysal / Anadolu Agency