The Pearson Family Foundation gives $100 million to University of Chicago, creating institute to confront new era of global conflicts
About The Pearson Institute
About The Pearson Family
Pearson Global Forum | George Mitchell
10.06.18
George J. Mitchell, Former U.S. Senator, U.S. Special Envoy for Northern Ireland (1995 – 1998), Independent Chairman, Northern Ireland Peace Talks, and U.S. Special Envoy for Middle East Peace (2009-2011) gives a keynote address at the Pearson Global Forum on October 5, 2018.
Pearson Global Forum | Causes of Conflict
10.05.18
Panelists: Rick Barton, Former U.S. Assistant Secretary of State for Conflict and Stabilization Operations; Grant T. Harris, CEO, Harris Africa Partners LLC; John McArthur; Senior Fellow of Global Economy and Development, The Brookings Institution and Senior Advisor on Sustainable Development, United Nations Foundation; Paul B. Stares, General John W. Vessey Senior Fellow for Conflict Prevention and Director, Center for Preventative Action, Council on Foreign Relations. Moderator: Liz Schrayer, President and CEO, U.S. Global Leadership Coalition. Introduction by Rahmatullah Hamraz, Obama Foundation Scholar and Harris Student.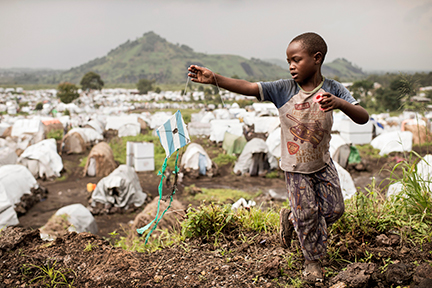 A boy at play.
GOMA, DEMOCRATIC REPUBLIC OF CONGO – APRIL 2013: A boy plays with his homemade kite on a volcanic rock above the Bulengo IDP (Internally Displaced Persons) camp.
PANOS PICTURES / Sven Torfinn