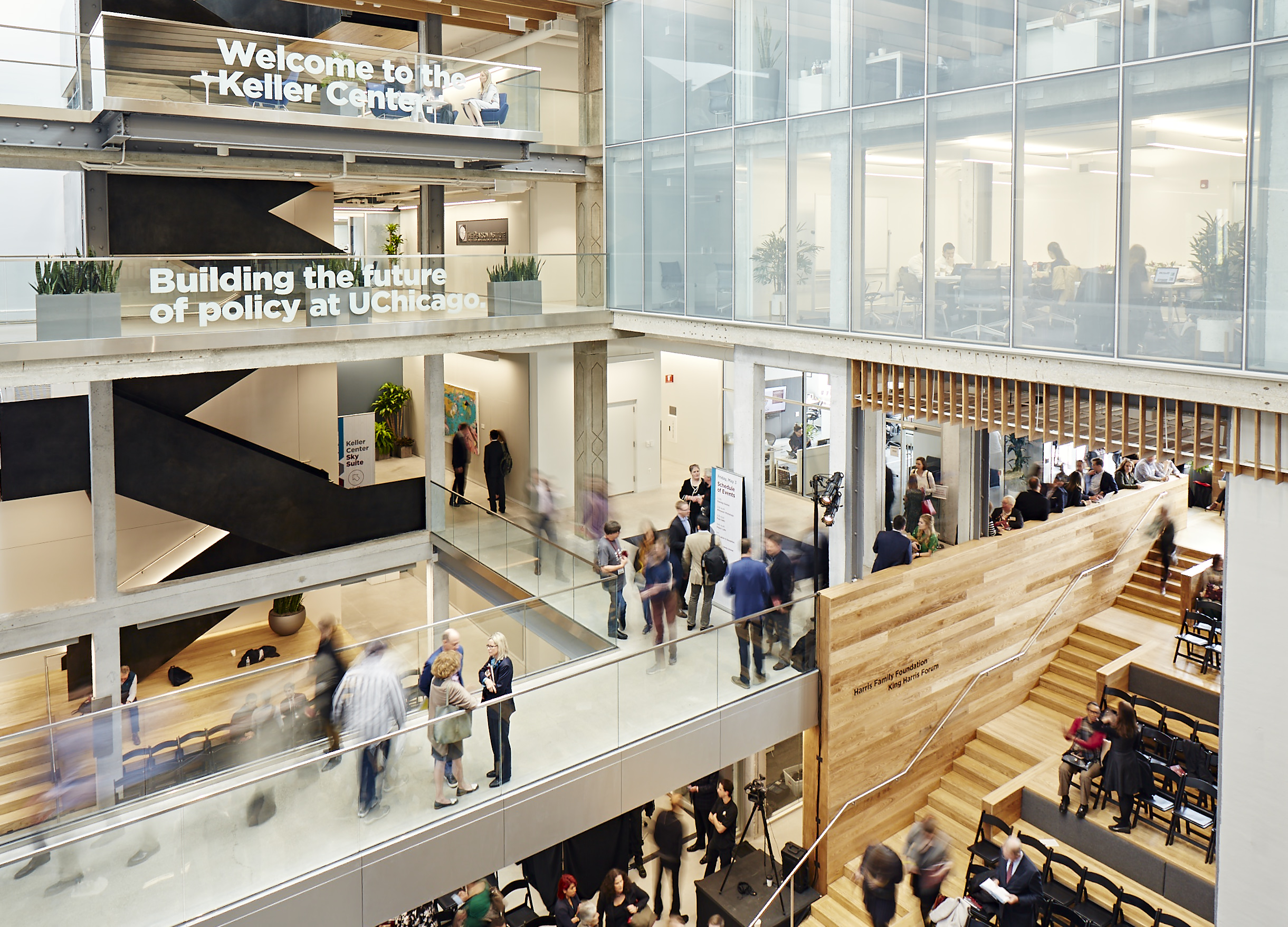 The Keller Center
The Pearson Institute is housed in the Keller Center, located at 1307 E 60th St on the University of Chicago campus.
Harris Public Policy is offering the following courses as part of The Pearson Institute's academic programming in 2021–22. These courses create an intellectual context for conflict study and introduce students to new tools and methodologies.
Conflict and Applied Data Science
This goals of this course, taught by Oeindrila Dube, are to introduce students to key concepts in the study of conflict, and to develop the analytical skills needed to understand and assess key arguments advanced in this arena. It is ideal for students who want a deep understanding of the methodology used to produce key empirical findings. Effective policymakers need to be able to discern whether evidence is credible. This course is designed to create effective policymakers by focusing on the latest research findings around the causes and consequences of conflict, and by teaching the data science methods used to derive those findings. A major emphasis of the course will be learning how to think critically about empirical evidence, and learning the methods used in quantitative empirical analysis, such as the use of fixed effects, differences-in-differences research designs, and instrumental variables estimation. Previous coursework in statistics is a requirement to enroll in this course. This methodological emphasis will occur through the examination of fundamental topics in conflict. Drawing on economics, political science, and psychology, the course will examine the role of economic shocks and ethnic divisions on civil war. Students will discern whether similar factors explain the rise of terrorism. In addition, students will study the consequences of conflict on socio-economic development, and examine the role of foreign aid and post-conflict reconciliation in helping countries recover from conflict.
Students can broaden their perspectives through elective courses at Harris Public Policy and in other schools and divisions, including the University of Chicago Booth School of Business, Law School, and Social Sciences Division.
Conflict and Humanitarian Intervention: Blurring Humanitarian, Development and Security Policy
This course, taught by Rebecca Wolfe, examines questions such as: When do states and the international system intervene in humanitarian crises? How are those decisions made? What are the ethical dilemmas? How are humanitarian principles maintained in conflict-related crises? Is there a case for non-intervention? Traditionally, the ideal form of humanitarian interventions was about saving lives. However, as humanitarian aid has become politicized, more humanitarian spending is focused on protracted, conflict-related crises, and the closing of humanitarian space due to state and non-state actors, the ability to maintain these principles is increasingly challenged. If and how does the humanitarian system need to change? 
Economics, Politics and African Societies
This course, taught by James Robinson and Raúl Sánchez de la Sierra, provides an introduction to and interpretation of the social scientific and historical research on African development. The focus is on economic and political development in the longue durée and how Africa fits into the comparative picture. While the emphasis of much research on contemporary African development has been on poverty, civil war, and the immense economic challenges the continent has faced since independence, this course will aim to shift the debate. Students will study these topics, their roots, and the political correlates that go along with them; however, understanding these phenomena entails understanding African society, how it is organized, why it is organized as it is, and how it has come into collision with pernicious global forces of the past 500 years. This course is open to undergraduate, master's, and PhD students.
Global Conflict Policy Lab
This course, led by Rebecca J. Wolfe, is held in partnership with Harris Policy Labs, a unique initiative in which teams of second-year students apply their rigorous core education to real-time public policy challenges facing client organizations. Students in this lab were split into teams to work on projects with different clients to tackle real-world conflict and development policy issues through data analysis. Past teams of students have focused on projects such as informing state-level peace policies; developing a database to track labor market access policies for refugee-hosting countries; examining the relationship between climate change and armed conflict; informing survey methodologies for global organizations; and testing assumptions of countering violent extremism interventions.
Hydropolitics: Water Policy and Conflict
Water resources are increasingly contested in nearly all parts of the world. Available freshwater supplies have declined nearly 40 percent since 1970, and the UN predicts that 1.8 billion people will not have sufficient water to meet all of their daily needs by 2025. Water conflict is essentially a political problem because it reflects normative disagreements about who has the authority to define its value and appropriate uses. This course examines conflict over water and policy efforts to deal with intersectoral competition, international allocation, and the diplomatic and economic consequences of water resource depletion. The course, taught by Michael Tiboris, begins with a discussion of water's status as an object of policy—as property, a commodity, entitlement, and natural good. It then turns to a series of policy challenges in context, including agricultural water use, allocation treaties, development disputes, violence over resource instability, and domestic water justice conflicts.
Introduction to Peacebuilding
This course, taught by Maliha Chishti, aims to provide students with a solid foundation in the theories and practices of contemporary peacebuilding operations, paying attention to the role of external actors–namely, international organizations, bilateral donors, and nongovernmental organizations. Students will gain an understanding of the complex and multifaceted dimensions of peacebuilding, including transitional justice, liberal-democratic state-building, stabilization operations, economic restructuring, and gender reforms. Students will explore these diverse and intersecting themes as they relate to the broader goal of supporting lasting peace and rebuilding war-affected states and societies in meaningful and effective ways. This course pays special attention to the current policy initiatives and operational challenges in Afghanistan, examining the prospects for peace after over more than a decade of international interventions. Finally, this course concludes with critical theoretical perspectives on liberal peacebuilding and highlights alternative frameworks proposed by scholars to help mitigate future failures and advance successes. 
Nuclear Policy: Dilemmas in Decisionmaking
This course, taught by Kennette Benedict, will examine national and international policies on the uses of nuclear energy—both military and civilian. Students will review current military doctrines and plans for nuclear war-fighting, particularly those of the United States and Russia, as well as the likely effects of nuclear war. The course will review the history of international proliferation of nuclear technology and material as well as contemporary efforts to curtail the spread of nuclear weapons through international treaties and negotiated agreements, such as those with Iran and with North Korea. Students will also review the development of civilian nuclear power and examine current regulatory policies intended to prevent accidents, secure nuclear materials, and dispose of radioactive waste.
Order and Violence
Most countries in the world have been independent for about 50 years. Some are peaceful and have prospered, while some remain poor, war-torn, or both. This course, taught by Chris Blattman, will explore the question: What explains why some countries have succeeded while others remain poor, violent, and unequal? There are no formal prerequisites for this class, but non-Harris students should have a background in economics, statistics, and basic game theory. 
Political Economy of Development
The course, taught by James Robinson and Chris Blattman, will bring PhD students to the frontier of research on such topics as social and political organization, conflict, state-building, collective action, and the political determinants of stability, growth, and development. 
Politics and Public Policy in Latin America
Led by Maria Angélica Bautista, this course will cover the politics of policymaking in Latin America. How do political institutions shape policy outcomes? Why does public policy in Latin America differ from what is socially desirable? And how can other groups, such as civil society or violent actors, also shape policy and welfare in the region? Through an empirical focus on economic development of the region, this course will address how and why Latin America is different by looking at its economic and social policies and political institutions. Students will come to understand the legacy of authoritarianism, gaining the tools to evaluate the weakness of some Latin American states and the prosperity-generating policies of others. This course is for master's students.
Women, Development, and Politics
This course, jointly taught by Maria Angélica Bautista and Maliha Chishti, explores the dominant and emerging trends and debates in the field of women and international development. The major theoretical perspectives responding to global gender inequities will be explored alongside a wide range of themes impacting majority-world women, such as free market globalization, health and sexuality, race and representation, participatory development, human rights, the environment and participation in politics. Course lectures will integrate policy and practitioner accounts and perspectives to reflect the strong influence development practice has in shaping and informing the field. Course materials will also include anti-racist, postcolonial and post-development interruptions to dominant development discourse, specifically to challenge the underlying biases and assumptions of interventions that are predicated on transforming "them" into "us". The material will also explore the challenges of women participating in politics and what are the consequences when they do or do not.
Women, Peace, and Security
This course, taught by Maliha Chishti, focuses on critical feminist theorizing and scholarship on militarization, war and masculinities, and on feminist articulations of peace and (demilitarized) security. Students will learn about the transnational feminist research, policy and advocacy network known as the Women, Peace and Security (WPS) agenda, and the important inroads this network has made in establishing international and national policies in the fields of gender, conflict, peace and development.  The course highlights the background, history and policy significance of the historic Security Council Resolution 1325 on Women, Peace and Security, as well as subsequent and related UN resolutions. Students will also learn about alternative feminist approaches and visions for international peace and security, through powerful case study examples of feminist activism, solidarity and diplomacy.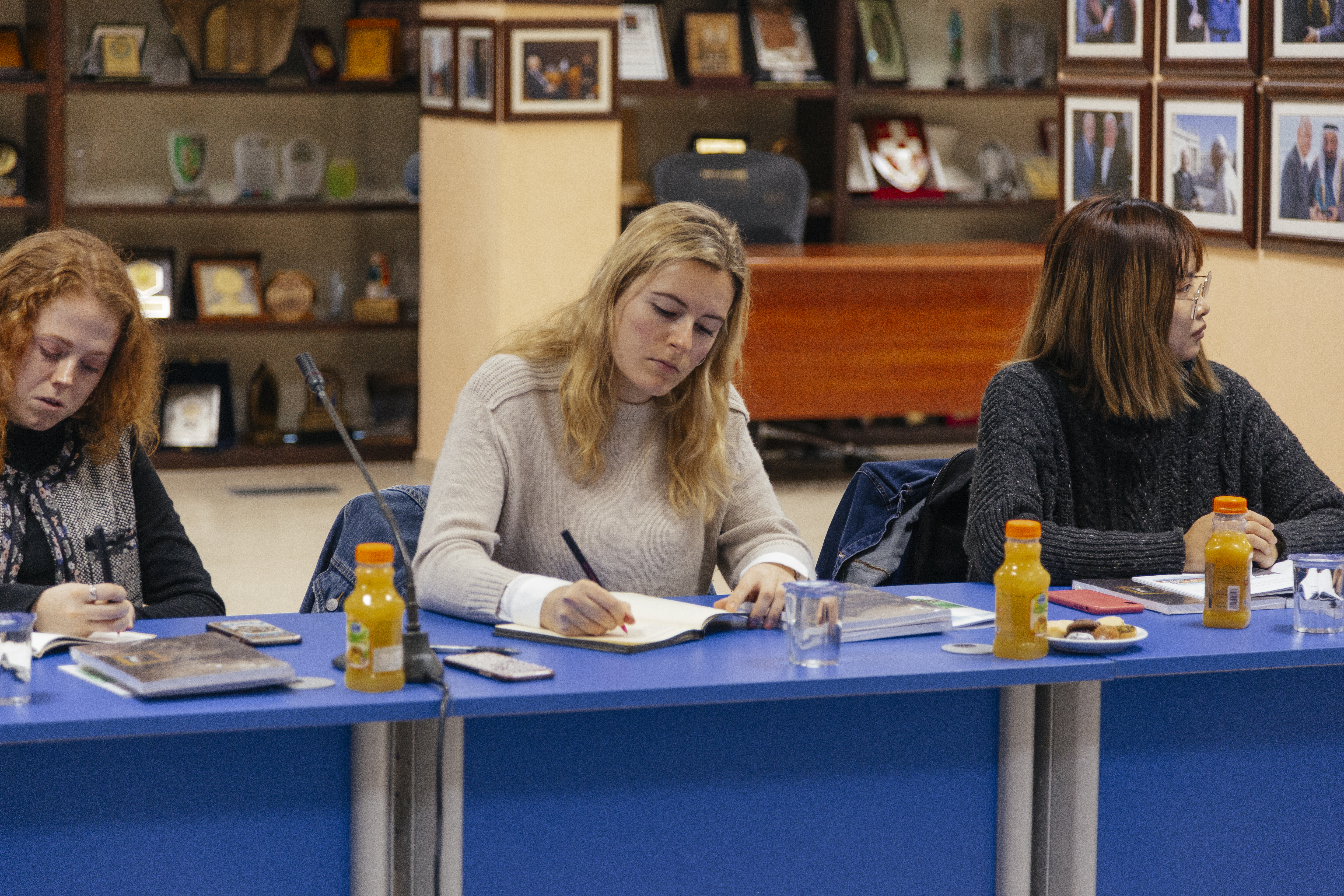 Pearson International Conflict Seminar | Jordan
Harris Public Policy students attend a seminar at the Talal Abu-Ghazaleh Knowledge Forum in Amman as part of The Pearson Institute's International Conflict Seminar to Jordan in 2018.
Ramin Kohanteb / The Pearson Institute