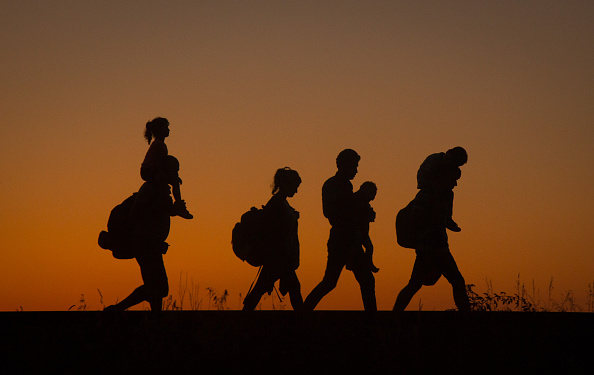 Record number of migrants flowing into Hungary across its borders with Serbia
Szeged, Hungary: Migrants walk along a railway line after they have crossed the border from Serbia into Hungary close to the village of Roszke on August 29, 2015 near Szeged, Hungary. According to the Hungarian authorities a record number of migrants from many parts of the Middle East, Africa and Asia crossed the border from Serbia earlier this week, said to be due in part to the erection of a new fence that is due to be completed at the end of this month. Since the beginning of 2015 the number of migrants using the so-called Balkans route has exploded with migrants arriving in Greece from Turkey and then travelling on through Macedonia and Serbia before entering the EU via Hungary. The massive increase, said to be the largest migration of people since World War II, led Hungarian Prime Minister Victor Orban to order Hungary's army to build a steel and barbed wire security barrier along its entire border with Serbia, after more than 100,000 asylum seekers from a variety of countries and war zones entered the country so far this year.
Matt Cardy/Getty Images
Confronting 
the 
Challenge
A World More at Peace
Why do some nations create wealth while others fall into poverty?
Why do groups fight, and why do they choose specific forms of fighting?
What strategies prove most effective in helping those affected by violent conflict heal their wounds and live more at peace?
Over the past decade, policymakers have asked for tighter links between empirical research and policymaking. They recognize that complex, multifaceted conflicts require policy informed by multidisciplinary study, rigorous data-driven research, and sophisticated analysis.
As the first institute of our kind, we are promoting research practices and sharing insights that will inform public policy. The Pearson Institute fills a critical gap by identifying new strategies to reduce or mitigate global conflicts and achieve real and enduring impact by influencing policy in ways that ultimately create a world more at peace.
Annually through The Pearson Global Forum, we convene researchers, policymakers, security and military leaders, nongovernmental organization leaders and practitioners (NGOs), civil society, and others to consider global conflict in all its forms and discuss how empirical insights can help inform policy.
Under the leadership of James Robinson, The Pearson Institute provides an intellectual home for those dedicated to these critical global issues. By mobilizing the best minds and employing the most innovative approaches and methodologies, The Pearson Institute is dedicated to understanding the roots of violent conflict.
Nearly one person is forcibly displaced every two seconds as a result of conflict.
United Nations High Commissioner for Refugees (UNHCR)
Connecting Research and Policy
How can societies around the world measurably reduce global conflict and its devastating impact? The Pearson Institute for the Study and Resolution of Global Conflicts is confronting this challenge head-on.
The Pearson Institute seeks to understand the complex causes and consequences of conflict by mobilizing the best minds and the most innovative tools and technology to get to the roots of these issues.
We're building a research community of preeminent scholars from multiple disciplines who are applying the latest scientific methodologies to understand and address the complex mix of economic, political, religious, cultural, and psychological variables that fuel conflict and the damage it inflicts on countries, communities, and individuals.
Through The Pearson Global Forum, we're bridging the gap between research and policy by convening academics and policymakers to discuss how evidence-based policies can help prevent and resolve conflicts.
And we're helping new generations of conflict scholars and policymakers to acquire the skills they need to ask relevant questions, challenge the status quo, and design solutions that work.
Situated within the University of Chicago Harris School of Public Policy, The Pearson Institute and The Pearson Global Forum are the preeminent destinations for those who care about creating a world more at peace. We continue to attract world-class faculty, gifted students, and policymakers who understand the benefits of basing policy and humanitarian aid decisions on rigorous, evidence-based research.