Collaborating
Across Disciplines
Go Back
Kara Ross Camarena
Postdoctoral Scholar
Harris Public Policy
Kara Ross Camarena, AB'03, MPP'11, is interested in the political economy of migration and violence. Her research examines the political and economic drivers and consequences of migration and migration policy. Her dissertation research focused on international aid policy for refugees and asylum seekers in sub-Saharan Africa. Current research projects examine violence, information, and refugee flight in Burundi and how legacies of violence and economic opportunity impact the return of displaced Christians in Lebanon.
Camarena is a Postdoctoral Scholar at Harris Public Policy. She received her PhD in Political Science from Harvard University. A Harris alumna, Camarena received both her master of public policy degree and bachelor's degree from the University of Chicago. Prior to pursuing graduate studies, she worked in the nonprofit sector in the United States and as a Peace Corps Volunteer in Tanzania.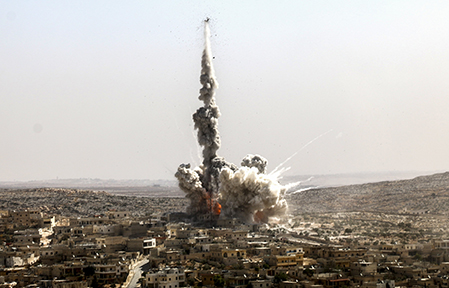 Aleppo, Syria - October 4th
Smoke rises after a warcraft belonging to the Russian Army bombed a residential area in the Darat Izza neighborhood of Aleppo, Syria on October 4, 2016.
GETTY / Mahmud Faysal / Anadolu Agency