Collaborating
across Disciplines
Go Back
Laura Benrey
Having fled Colombia in her teenage years, Laura Benrey is intimately familiar with the impact of conflict on migration and families.
As an undergraduate student at the University of Cincinnati studying international affairs, Benrey studied and analyzed reintegration programs for child soldiers in Colombia. This process and her field research opened her eyes not only to the shortcomings of existing reintegration programs for children in Colombia but also to the dearth of existing research and practice in this area. Benrey also completed an internship with the National Underground Railroad Freedom Center, where she researched a State Department-funded Trafficking in Persons Report Heroes Global Network and worked on an anti-trafficking-in-persons database of organizations around the world. This experience studying forced and coerced movement deepened her interest in investigating the complexity of global migration.
Following graduation, Benrey began working with war-affected victims in her most recent position at Kentucky Refugee Ministries. In her role as a legal case worker, she was responsible for helping refugees and asylum-seekers navigate the federal government's evolving policy regarding refugee family reunification and contacting local representatives to advocate the expedition of their cases in foreign US Embassies.
At The Pearson Institute, Benrey looks to expand her methodological expertise in order to continue to study reintegration of child soldiers in Colombia. Specifically, she seeks to research questions surrounding the future of demobilized young FARC combatants in rural areas and the propensity of these individuals to become involved in emerging criminal organizations.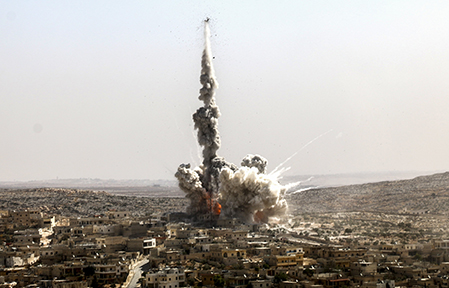 Aleppo, Syria - October 4th
Smoke rises after a warcraft belonging to the Russian Army bombed a residential area in the Darat Izza neighborhood of Aleppo, Syria on October 4, 2016.
GETTY / Mahmud Faysal / Anadolu Agency