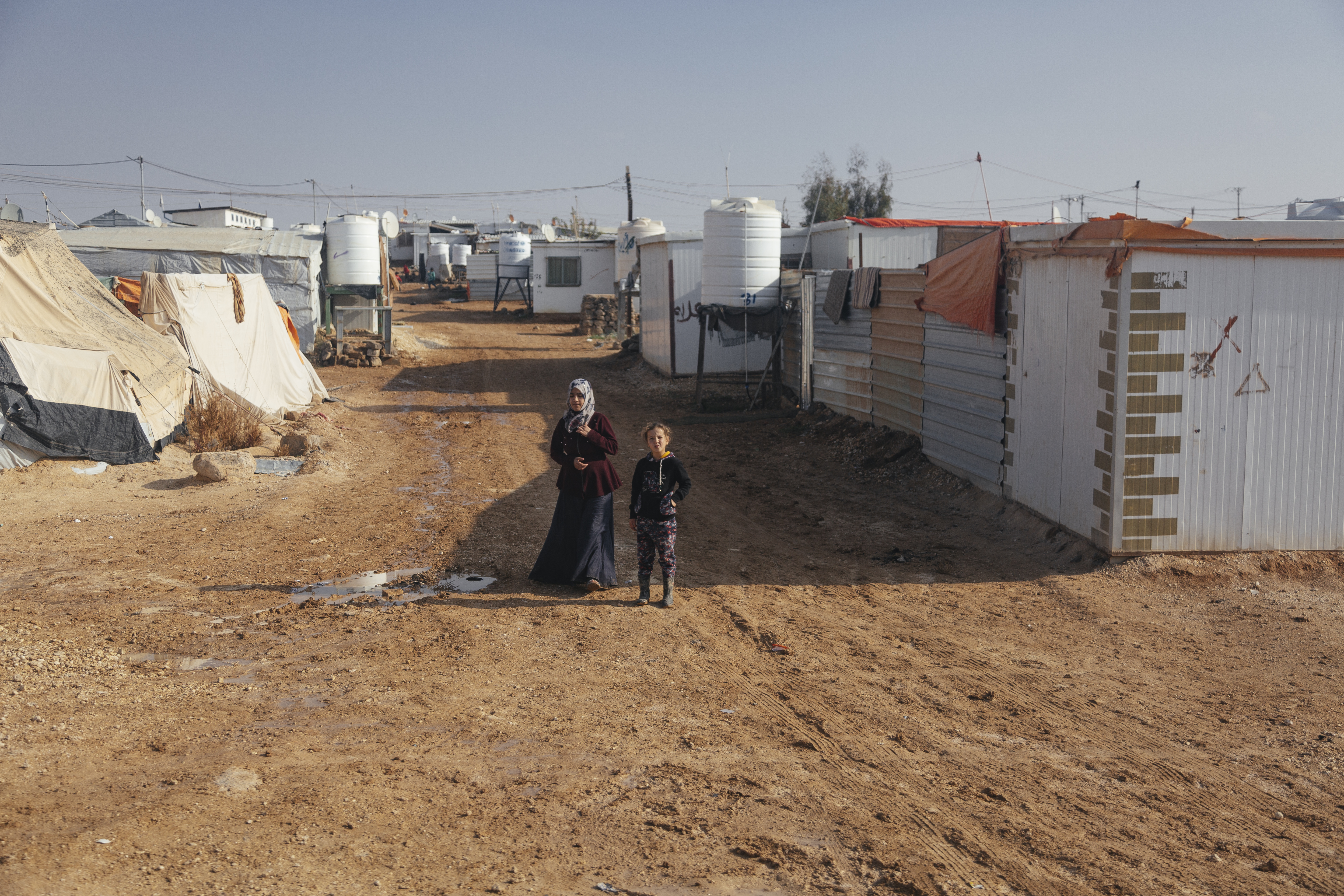 Zaatari Refugee Camp
Harris Public Policy students visited Zaatari refugee camp as part of the 2018 Pearson International Conflict Seminar to Jordan, where they met with Syrian refugees leading NGO programming within the camp.
Ramin Kohanteb/The Pearson Institute
Uniting
Research and Policy
Go Back
Arwa Damon
International Correspondent
CNN
Arwa Damon is a senior international correspondent based at CNN's Istanbul bureau. As one of the network's Middle East specialists, Damon frequently reports from conflict zones across the Middle East and North Africa region, often focusing her work on humanitarian stories.
In 2018 she won a prestigious George Foster Peabody Award for her reporting on the fall of ISIS in Iraq and Syria and three Emmys for her coverage in Iraq and Syria. This included the Outstanding News Special Return to Mosul where, trapped by an ISIS firefight, Damon and her colleague were forced to seek shelter for more than twenty-eight hours in a civilian house in East Mosul. A recipient of the International Women's Media Foundation's 2014 Courage in Journalism Award, Damon has also extensively covered the civil war in Syria and the deepening humanitarian crisis that has spread across the region in its wake. At the height of Europe's refugee crisis in 2015, Damon followed refugees from Syria and Iraq as they travelled by foot, boat, and train across Hungary and neighboring countries. Her relentless—and moving—coverage demonstrating the dire situation these refugees were facing was recognized with an Emmy Award and Gracie Award in 2016.
Following the attack on the US embassy in Benghazi in 2012, Damon was one of the first journalists to arrive at the scene. While based in CNN's Baghdad bureau she covered several landmark stories—including the deadly battle for Fallujah, the trial and execution of Saddam Hussein, and the country's first national elections following the toppling of the Ba'ath regime. Damon was then based at CNN's Beirut bureau and was part of the network's team covering the Arab Spring. She was awarded a Peabody Award and an Emmy for Outstanding Live Coverage of a Current News Story for her work reporting on the popular uprisings in Egypt and Libya.
In 2015, Damon launched a nonprofit organization, International Network for Aid, Relief, and Assistance (INARA), based on her personal experience in war zones and war-torn nations. INARA focuses on building a network of logistical support and medical care to help children who have fallen through the cracks and need lifesaving or life-altering medical treatment. Damon has been recognized with multiple awards as a result of INARA's incredible impact in a short period of time.
Damon graduated with honors from Skidmore College in New York with a double major in French and biology and a minor in international affairs. She was born in Boston, Massachusetts, but spent most of her childhood in Morocco and Turkey. She is fluent in Arabic, French, and Turkish.

Baidoa, Somalia
Makeshift, temporary shelter made of plastic and clothing at a refugee center in Baidoa, Somalia.