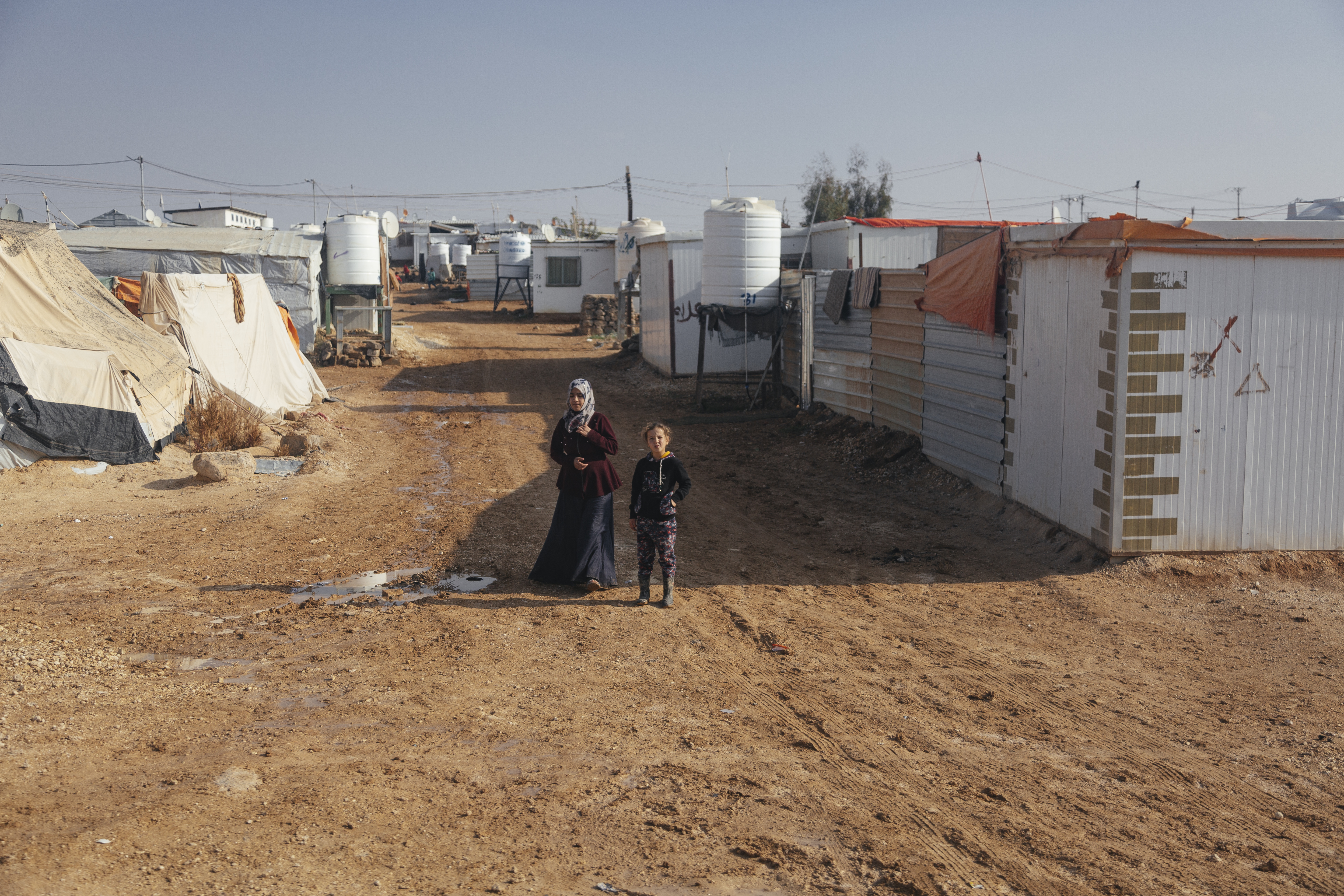 Zaatari Refugee Camp
Harris Public Policy students visited Zaatari refugee camp as part of the 2018 Pearson International Conflict Seminar to Jordan, where they met with Syrian refugees leading NGO programming within the camp.
Ramin Kohanteb/The Pearson Institute
Uniting
Research and Policy
Go Back
Ana Camila Vasquez
Pearson Fellow Alum
MPP'22
Ana Camila Vasquez, MPP'22, is an organizational impact analyst  at CEDA. Previously she worked as a research assistant at Heartland Alliance. In the summer of 2021, she worked as an intern with the Interim Secretariat of the Wan Fambul National Framework Implementation in the Government of Sierra Leone, in collaboration with Fambul Tok International, and previously worked as a research assistant for Pearson Associate Rebecca Wolfe.
Prior to her time at the University of Chicago, Vasquez worked with Compromiso Compartido, a Venezuelan NGO that promotes peace-building processes, national reconciliation and intersectoral programs to foster leadership in vulnerable communities. There, Vasquez oversaw the design of the business model for a cultural touristic route in the communities of Petare and Brisas de Propatria, in Caracas. Inspired by the example of Comuna 13 in Medellín, this program intends to expose stories of transformation and resilience through art, giving the local population the opportunity to generate profits for their own small businesses and to generate sustainable investment for communities in co-creation with local leaders. In parallel, Vasquez also conducted and published research on gender vulnerability in the Venezuelan exodus in Latin America, evaluating their labor prospects in a pandemic context and the implications for public policies in the region, alongside Equilibrium - Center for Economic Development of Latin America, located in Peru. 
Prior to that, Vasquez worked with Caracas Mi Convive, a Venezuelan NGO focused on crime and violence prevention as a researcher. In her role, Vasquez developed and published several studies on the organization's programs including those focused on mental health services for victims and their families, women's empowerment, youth unemployment, organized crime, and police reforms. Additionally, she worked to advise the citizenship security branch of Plan País, the interim government's plan for a potential transition to democratic rule in Venezuela.
Vasquez holds an undergraduate degree in economics from Universidad Católica Andrés Bello in Caracas, where she graduated salutatorian of the 2019 class. During her studies, she worked as an intern for CAF - Development Bank of Latin America's Impact Evaluation and Public Policy Learning Department, and as a research assistant for the Economics Research Department of Mercantil Bank.

Baidoa, Somalia
Makeshift, temporary shelter made of plastic and clothing at a refugee center in Baidoa, Somalia.