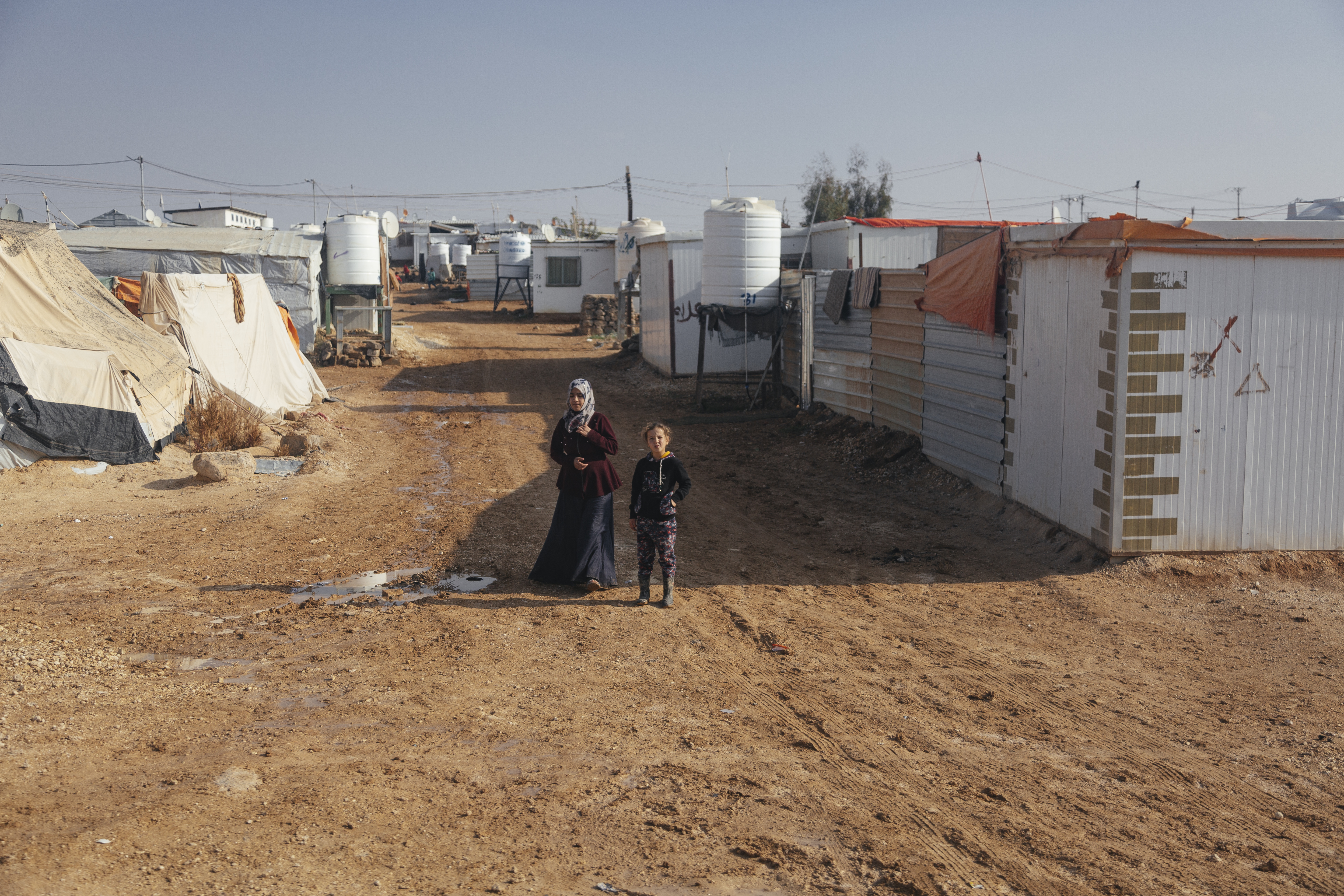 Zaatari Refugee Camp
Harris Public Policy students visited Zaatari refugee camp as part of the 2018 Pearson International Conflict Seminar to Jordan, where they met with Syrian refugees leading NGO programming within the camp.
Ramin Kohanteb/The Pearson Institute
Uniting
Research and Policy
Go Back
Sonnet Frisbie
Pearson Fellow Alum
MPP'21
Sonnet Frisbie, MPP'21, is Managing Director, Geopolitical Risk Analysis, at Morning Consult. Previously, she was member of the Foreign Service in the U.S. Department of State, serving as a financial economist in the State Department's Office of Monetary Affairs in Washington, D.C.
While at Harris Public Policy, Frisbie worked as a consultant with the International Security and Development Center in Berlin on a project to analyze the risks faced by Syrian refugees and their host communities in Western Asia to current and emergent threats. She also worked as a research assistant for Pearson Faculty Affiliate Austin Wright. In the summer of 2020, as a research assistant at the Harvard Growth Lab, she worked to help the Namibian government chart a path towards more inclusive growth and macroeconomic stability. Her portfolio included looking into efficiency in the agricultural sector, conducting a constraint analysis of credit to the private sector, and investigating government revenue streams. 
Prior to her time at the University of Chicago, as a U.S. Foreign Service Officer specializing in Economic Policy, Frisbie's assignments over ten years included Mexico, the Czech Republic, Iraq, and Poland. Her roles ranged from immigration work in Mexico to anti-corruption policy in the Czech Republic. Most recently, Sonnet spent three years as the Trade and Investment officer at the U.S. Embassy in Warsaw, Poland. In this role, she coordinated strategy on commercial diplomacy for U.S. investors and covered a wide-ranging subject portfolio including macroeconomic policy, digital economy and privacy, and third country investment. Frisbie's work has garnered multiple accolades, including a department-wide award for exceptional language acquisition and use in the field, global runner-up for best interagency team working to promote U.S. business, and a Superior Honor Award for policy formulation and economic reporting on Chinese investment in Central and Eastern Europe. In each of her overseas assignments, Frisbie saw first-hand how policies either facilitated or hindered economic activity, making enormous differences in people's lives and the country at large. In Iraq in 2014, she watched ISIL move into a power vacuum, seize territory from a sovereign state, and quickly set up a pseudo-government to extract funding in the areas it controlled. And in Poland and the Czech Republic a mere 30 years after the end of communism, she saw the transformation countries can undergo in a single generation.    
Frisbie holds a BA in international economics from Pepperdine University, and studied abroad in Argentina. She speaks Czech, Spanish, German, and Polish.  

Baidoa, Somalia
Makeshift, temporary shelter made of plastic and clothing at a refugee center in Baidoa, Somalia.